Driving school locator
78
Driving school locator
Making it easy to find a driving school
It's always been difficult to find a driving school in your local area so igottadrive.com is introducing a driving school locator service.
The locator service will allow users to find driving schools based on zip, city, and/or driving school name. This service is now available for California under the California driver's ed section and will soon be available in Ohio under Ohio driver's ed. Other states will follow in the near future.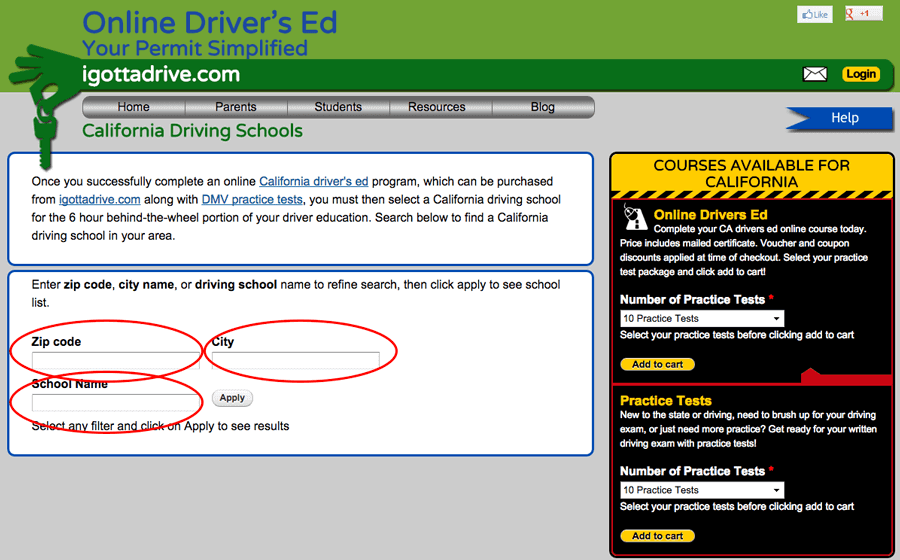 Using the service is very easy. Notice the 3 fields circled in red – these are the search fields that can be used to narrow the results of your search. Simply clicking on the Apply button will provide a rather long list of all driving schools within the state. Entering information into any of the fields will narrow the search to match values in that field.
For example, if I want to see all of the driving schools in zip code 92843, I simply enter that value into the field marked "Zip code" and voila, there is a much-shortened list of the driving schools within the 92843 zip code. Entering a value into another field while leaving the original zip code value in place will narrow the search even further.
The results of a search will have to match all of the fields you've entered for a search. Using this method you can very quickly find a small collection of driving schools that you can consider for your behind the wheel training.
Click on the following link to find driving schools in California.
Blog Image: