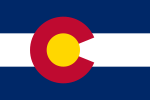 If you're at least 15 years old and pursuing the freedom to drive, the ultimate result of having a driver's license, you will need to know how. In Colorado the process of obtaining a driver's license can be quite confusing. Our goal is to take some of the mystery out of the process and get you started with a great online driver's ed course. Check out each of the tabs for more details.
Easy As 1-2-3-4-5
If you are 15 or older, complete your online driver's ed course through igottadrive.com to learn the fundamentals of safe driving and good driving skills.
Apply for your permit at your local DMV.
Log 50 hours of driving time (10 of which must be at night). Be sure to document these hours!
Log 6 hours of behind-the-wheel training with a licensed instructor (required if under 16.5 years of age at time of applying for a license).
Apply for your license after having your permit for 12 months. Drive safely!
Important Information
The Colorado Department of Transportation (CDOT) has some excellent information for aspiring new drivers and their parents. Take a few minutes to explore more detailed information provided by the CDOT.